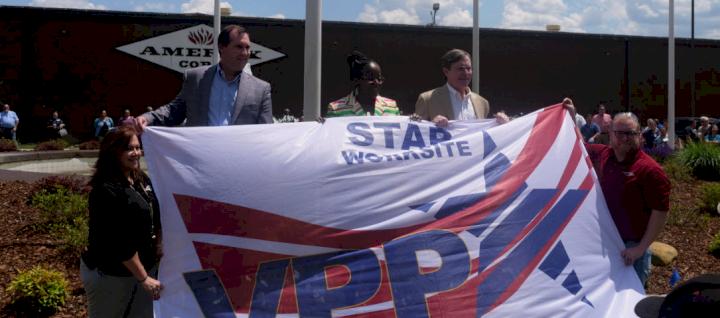 Voluntary Protection Program
Holding true to Mr. McWane's philosophy, our outstanding safety team, under the leadership of Vice President Barb Wisniewski, has propelled our company to industry-leading safety performance. We all share the motto "Do it Safely, or Not at All!"
As McWane, Inc. continues to emphasize safety and health, we are actively participating in the Occupational Safety and Health Administration's VPP. The program emphasis a cooperative relationship with management, labor and OSHA while working to implement comprehensive safety and health management systems.
Approval into VPP is OSHA's official recognition of the outstanding efforts of employers and employees who have achieved exemplary occupational safety and health programs. "The VPP designation indicates a true commitment from management and team members in working together, with everyone taking personal responsibility for safety and health," said Barbara Wisniewski, Vice President of Health and Safety, McWane. Inc.
There are two types of OSHA VPP designations. VPP Merit sites are those with cooperative management and union relationships exhibiting exemplary health and safety programs, but whose injury rates are not yet consistently below industry averages. VPP Star sites have exemplary health and safety programs, cooperative partnerships and have consistently demonstrated injury rates below the industry averages.
McWane facilities that have been recognized as VPP sites to date are:
Our own Andy Boise, composed lyrics and music to create a VPP Song, "Everyone Goes Home From Here." Please click on the link to the right to watch and listen.