Tyler Union takes part in Worlds of Work Expo
March 28, 2019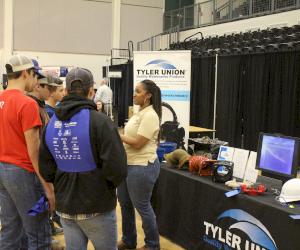 Tyler Union was part of the Automotive and Manufacturing Group at the fourth annual Worlds of Work Expo, organized by the Regional Workforce Council of East Alabama Works. These expos help raise awareness of career opportunities for students while addressing workforce needs in the region. This year's event featured over 100 presenters from different career fields and brought in approximately 8,000 eighth graders and high school juniors to see the tools of the trades. The hands-on, interactive exhibitions gave them the opportunity to take the first steps in planning for their futures.
A spokesperson for the East Alabama Works Regional Workforce Council stated, "We have a shortage of skilled workers in our area. "The skilled trades deserve just as much respect as a college education does."
Tonja Brown, Employment Specialist, was the career presenter for Tyler Union. Assisting Tonja on day two was Tyler Union HR Assistant, Sara Tongsuvone.