Charlie Smith retires after 51 years with Tyler Union
July 9, 2019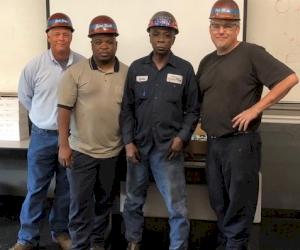 Pictured L-R: Charlie Chastain, Brian Smith, Charlie Smith and Pete Cagle
Charlie Smith started working at Tyler Union (formerly Union Foundry) in Anniston, Alabama on May 23, 1968 and is quick to tell you a lot has changed since then. One of the best changes, according to Charlie, is the automatic machines, "They sure make foundry work easier!" 

Charlie and his wife of 48 years, Lorene, have lived in the Anniston area all their lives, raised three children there and have been blessed with eight grandchildren. 

On June 28, 2019 when he punched the time clock for the last time, he said he was going fishing. He also plans to do a little gardening and a little more fishing, a little gardening, a little fishing, gardening, fishing, gardening, fishing, fishing, fishing, fishing . . . 

We wish Charlie a long and happy retirement. He definitely earned it.